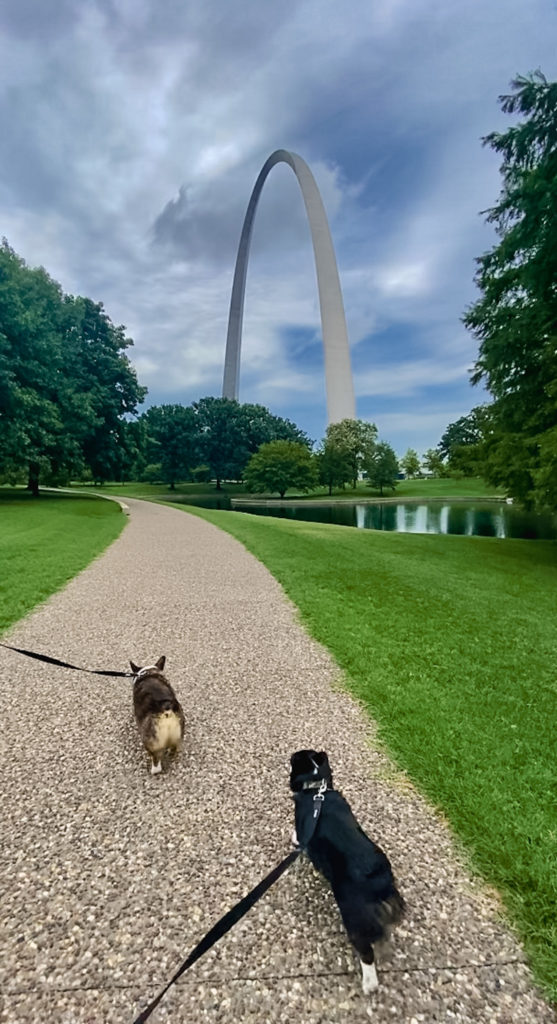 In July 0f 2022, my mom, Gizmo, Stormy, and I all road-tripped from Ohio to California. We stopped at three national parks along the way. We first went to The Gateway Arch in St Louis, Arches in Moab, and then Zion near St. George. This was the first time I had ever taken my dogs to a national park and I was so excited.
Gateway Arch National Park was a great place to take the dogs. The park was practically empty which meant we we had most of the walking paths to ourselves. I see a lot of hate towards the Gateway Arch being a national park, but in my opinion it is underrated and just different than most others parks. It doesn't have nearly the same nature beauty factor that the others. do, but it is still a cool place to see. The greatest part about this stop was that we could walk the dogs anywhere without restrictions. If you are looking for a low-key stop on your way out west then I highly recommend staying near the Arch and enjoying the park around it with your dogs.
After spending some time in Colorado, we went to Utah. Our next national park stop was Arches National Park. The park was absolutely beautiful, but dogs are not allowed at many of the areas here. It makes sense to me that dogs are not allowed many places here due to safety issues with the heat and terrain. The red rock scenery in Arches and the surrounding area of Moab was incredible though. Many other scenic parks around Moab were more pet-friendly than Arches itself. Outside of our hotel their were pet-friendly walking paths that had beautiful views of the red rocks in the background. We also visited multiple bridges and parks that allowed dogs on their paths. The views from the park itself were beyond breathtaking, but the areas around Moab offered great views as well without as many restrictions on dogs. Even with the lack of dog-friendly paths in Arches, I would still recommend stopping in Moab to see the desert scenery. Even just driving through Arches National Park is amazing because even from your car window you will see canyons, arches, and unique desert plants. Your pups can always enjoy the views from the car windows as you drive through the park.
Zion National Park was absolutely beautiful, but our hike was cut short when Gizmo stepped on fire ants as we were walking along the dog-friendly path. Poor Giz had a sore paw, but luckily he was carried back to the car and we treated his paw before taking off for California. Zion was much more crowded than the other parks we stopped at and their was only one pet-friendly walking path from what we saw. Many of Zions hikes are on high elevated cliffs or in the rivers within the rocks which makes them not the best option for pets. Much like Arches, views of Zion can be still be enjoyed as you drive through the park. If you want to do serious hiking though, I recommend leaving your fur babies behind for this stop. The great thing about Zion is hotels, restaurants, and coffee shops surround the area right outside the park gate. We ate take-out one night from our hotel balcony with beautiful views of colorful rocks in the background. If I ever return to Zion I hope I get to experience some of the amazing hikes it has to offer.
As much as I would love to return to these parks to explore more there are so many other parks I would love to see, especially in the Northwestern United States. I would love to go to Wyoming to see Yellowstone or all the way up to Montana to see Glacier next. What national park do you dream of seeing?