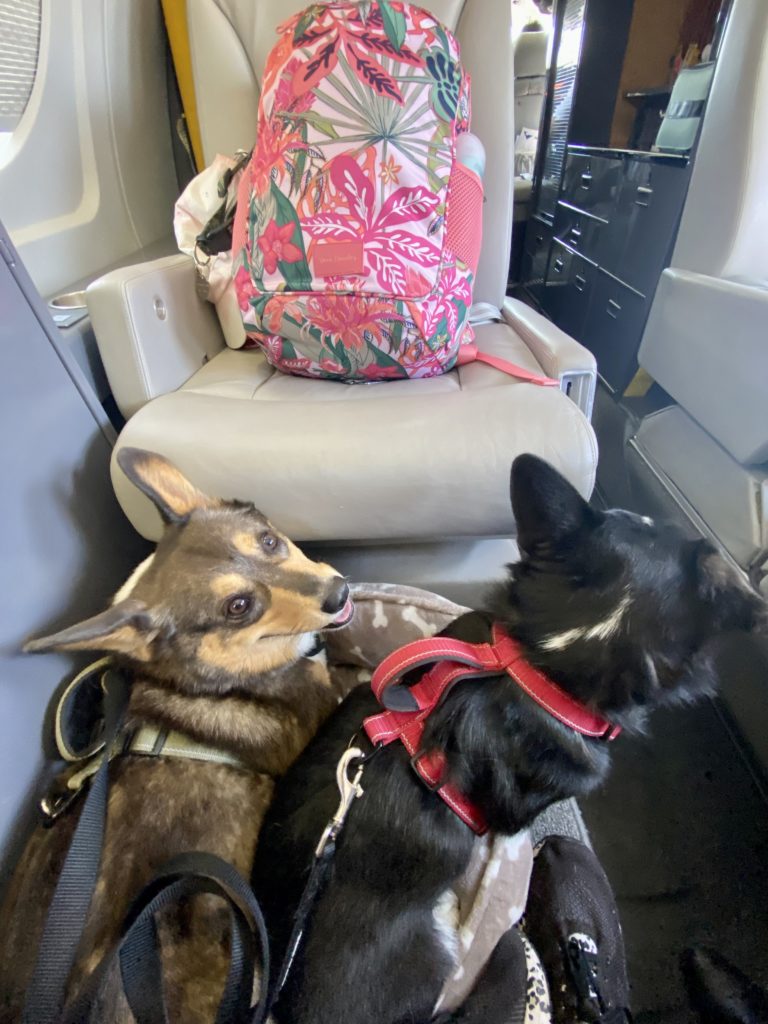 In August 2022, I had the incredible experience of a flying on a private jet to Hawaii with my two dogs, Gizmo and Stormy. I flew on a shared private jet with two other families and their pets. Gizmo and Stormy got to fly alongside Kiska the Husky and Choco the Chocolate Lab. The private jet took us to Oahu then flew onto Maui and then Kona to take our friends to their new homes. Flights going from the mainland to Hawaii can stop at various islands to get passengers to their desired destination. Not only did I get a wonderful experience flying on a private jet, but I made new dog loving friends who also live here in Hawaii!
Kiska's owner Kim also wanted to share her experience about Pet Jets. Kim stated, "I would recommend Pet Jets and Honey because of her exceptional customer service and lengthy experience in the industry." Kim made it clear that she wanted to be with her senior dog, Kiska for the entire trip and Honey assured her that they would always be together. Not only did Kim get to fly next to Kiska, but she also mentioned being "blown away" by the perks and exceptional service. The additional services started before the plane even took off from assistance with the rental car drop-off and a luxury FBO lounge to hangout in while waiting to board the private jet. Then the perks continued on the flight when breakfast, champagne, snacks, and lunch were all served. The final special touch was when we were all greeted with fresh, Hawaiian lei's from friendly staff at the airport. Kim stated that the Pet Jets Travel Club membership was, "worth every cent for the customer service and experience provided."
On the flight, Kim and I sipped champagne together with our dogs by our sides. Normally a flight to Hawaii feels long, but this flight seemed to go so quickly because we were all enjoying the snacks, drinks, and company around us. Sharing a private jet not only makes flying private more financially possible, but it also makes for a fun experience when like-minded people can all fly together. We went into the flight as strangers, but we left hours later as great friends who had a once in a lifetime experience together!
Kim said she never expected the rental car would be waiting wingtip upon arrival, but there it was ready to take her family to their new home here in Hawaii! Kim stated, "Pet Jets made our move with our fur kid seamless with minimal stress." Kim mentioned that even after the flight landed and everyone was off to their new homes that Honey still reached out to make sure everything went well. Now Gizmo, Stormy, Kiska, and Choco are all enjoying the sunshine and adventure in Hawaii!