Pet Jets has had several successful flights this year, but we have also had seats left empty on private jet charter flights where more passengers and pets could have benefited from joining. We had a flight go from the US over to Europe earlier this year where only ONE party flew when there were several openings for others to join the flight. Our member who booked and paid for the flight tried to post her available flight to others through Facebook after being in a group for two years, but she was blocked from posting it and thrown out of the group. If the goal of these social media groups is to help pet owners safely fly with their pets in the cabin of planes then shouldn't all options available be exhausted and promoted? If these social media groups aren't associated with specific companies then shouldn't group members be able to freely choose which companies they would like to work with to accomplish their travel goals? Limiting the available options to families looking to move or fly with their pets just takes away opportunities for people to successfully fly.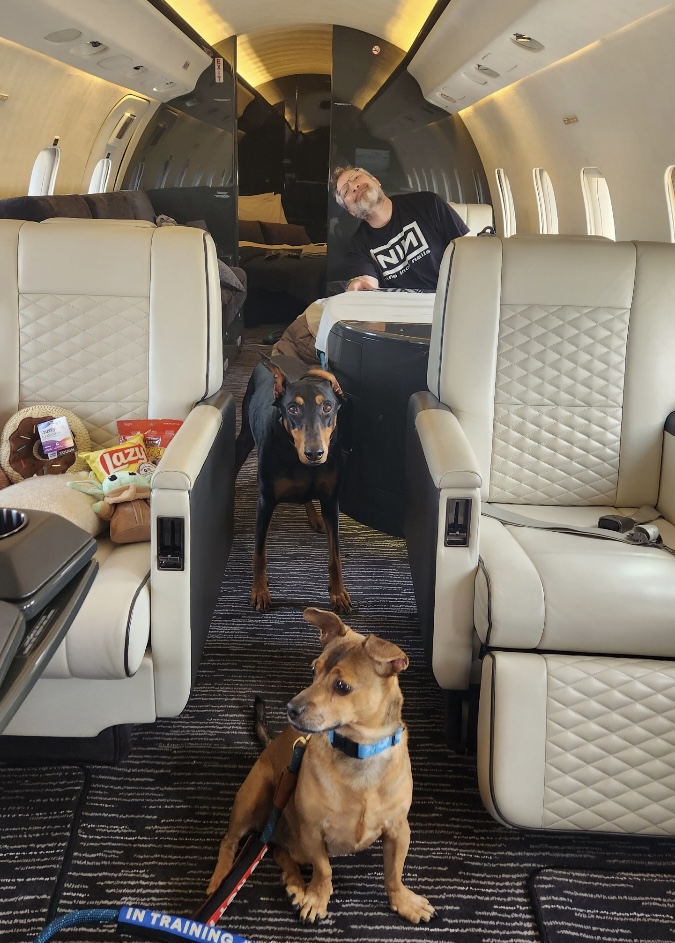 When people call us we always ask, "how did you find us?" Many people come to us saying they finally found us after "going down the rabbit hole of social media and online searching." Many people often say, "I wish I would have found you guys sooner." Pet Jets is striving to become visible to those looking for a professional service when they are booking private jet charter. Pet Jets is not working against social media groups or other companies supporting safe pet travel, but instead we are here to consult/advise those looking to have an experienced company take over their trip. We have advised members who have even booked options through other brokers and within social media groups because the route/timeframe/budget goal worked best for them. Pet Jets is an option for those looking to just be a passenger involved in a flight rather than someone dealing with the stress of managing the flight. Pet Jets has the experience, knowledge, and expertise to navigate the private jet industry for those who prefer to let a professional handle their trip.
Brian Fiske started Pet Jets over 17 years ago. Back in 2010, the Pet Jets, Inc. Facebook page that is still around today started. In 2010, The Wall Street Journal wrote an article highlighting Pet Jets – as Brian was the originator of the idea of sharing private jet costs to benefit pet owners looking to safely fly their pets in cabin. Without Brian's idea for Pet Jets Pals – the idea of pet owners sharing private jets to save money – these flights wouldn't exist. Check out the WSJ article from 2010 here: https://www.wsj.com/articles/BL-WHB-3541. Back when Pet Jets first began and was growing, the idea was a unique niche that had never been brought to life before. I speak to the longevity of the company to establish that the ideas for private jet travel with pets came directly from Pet Jets – since then many groups and companies have ran with the ideas,. We stand firm as the original Pet Jets with the same goal today as it was years ago – to provide professional services to those moving/flying with their pets. Disparaging the original company that founded an idea that has benefited so many pet owners for years is perplexing.
Our website is transparent and offers information regarding our upcoming flight shares, our membership, and various ways to contact us. Our shared flight opportunities are visible on our website for others so they can see if we have an option that works for them. We have countless reviews from members who have flown with us for moves, or for vacation several times. We spend hours talking with our members about their trip plans and present various solutions on how to accomplish their goals of traveling with their pets. We are a business that requires a membership/retainer fee for our time spent planning people's trips. Pet Jets has found travel solutions for people with various budgets over the years from private jet sharing to VIP ground transportation options.
Pet Jets has worked with group organizers in the past and has helped them successfully fly with their group of like-minded people. Here at Pet Jets we don't view the various options that have come into the market as competition, but we instead view this as an opportunity for people with the same goal to work together. Pet owners who are looking to fly with their pets in cabin should have the option to freely choose who they would like to work with when doing so. No plane seats should be left empty if it means a family and their pets could safely get to their destination.